Ronnie Earl & The Broadcasters Deliver a Loud and Clear Shout-Out of 'Mercy Me'
Ronnie Earl, a four-time Blues Music Award winner as "Guitar Player of the Year," follows up the critical and commercial success of his last album, Rise Up, with Mercy Me, a new set of wondrous music with his long-time band, The Broadcasters, on April 15 via Stony Plain Records. Mercy Me will also be released later this summer on vinyl LP.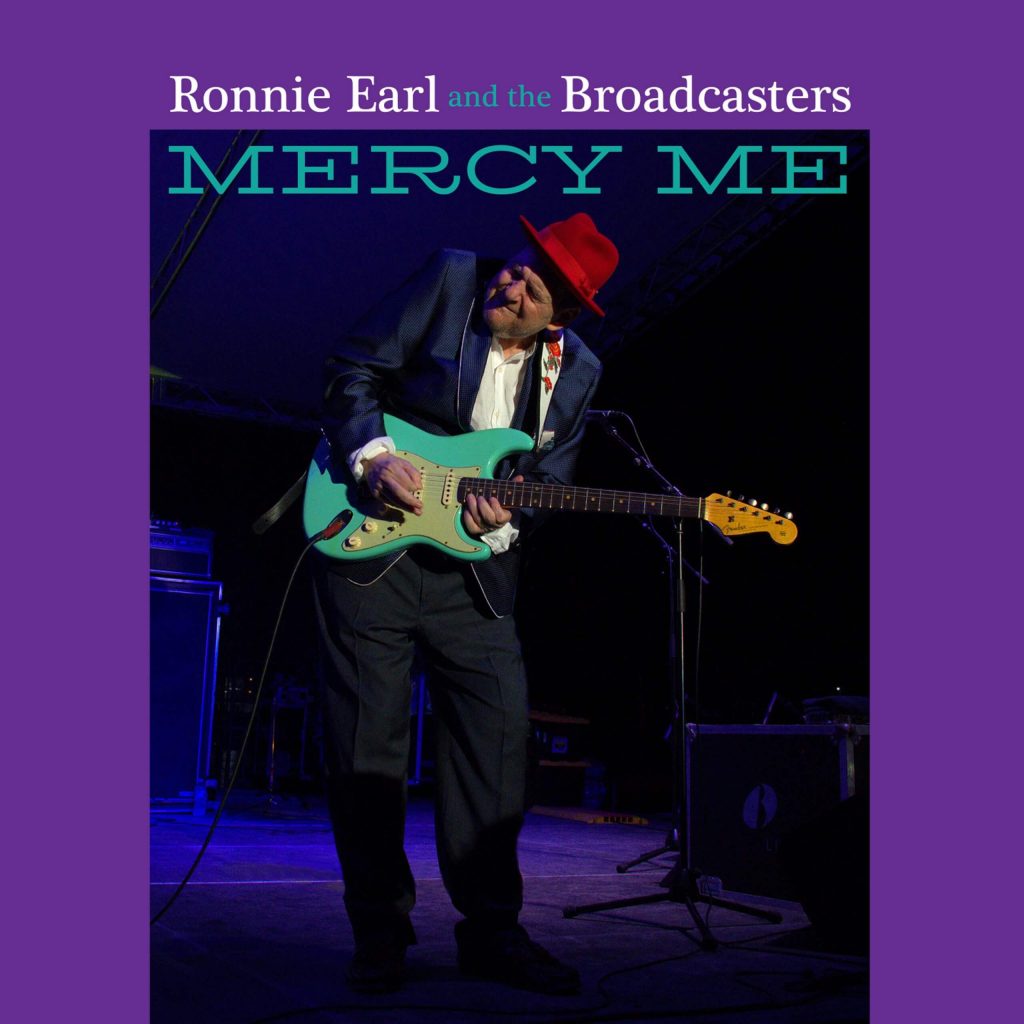 Mercy Me is Earl's 14th album in partnership with Stony Plain and his 28th career album. The 12-song Mercy Me features Dave Limina on piano and Hammond B3, Diane Blue on vocals, Forrest Padgett on drums, Paul Kochanski on electric and upright bass, all backing Earl's amazingly soulful guitar work. Guest musicians include Anthony Geraci, piano; Mark Earley, baritone sax; Mario Perrett, tenor sax; Peter Ward, guitar; and Tess Ferraiolo, vocals. The album was produced by Earl, recorded and mixed by Huck Bennert and mastered at Sound Mirror Studio by Mark Donahue.
I titled the album 'Mercy Me' as I was thinking about all the things going on in the world. We need to have more mercy for the world, for other people and for ourselves. I love playing the blues, and the session was so enjoyable. The band was focused, and we came together as one.
Earl has a unique, beautiful, easily identifiable tone that comes from within and not from a piece of equipment, such as a pedal, which he has never used. Music critic Jim Hynes has called Ronnie, "The John Coltrane of the Guitar;" B.B. King referred to Ronnie as one of his sons; and writer Ron Weinstock said of Ronnie that he "is a master of tonal dynamics, phrasing, and solo construction. Earl builds solos like smoldering coals in a charcoal grill that bursts into flames when fat drips down."
The album's even-dozen tunes include a diverse mix of originals and unique covers of songs from such legends as Muddy Waters, John Coltrane, Dave Mason and Percy Mayfield.
"Blow Wind Blow" is a little guitar tribute to Muddy Waters; My other love is "Alabama," which is a tribute to John Coltrane. It's different from his, but sadly the racism he wrote about in 1963 is still going on today. "Blues for Ruthie Foster" is a nice little acoustic tune with my longtime friend Peter Ward. It's in the vein of a little bit Robert Johnson, a little bit Robert Junior. I had a chance to sit in with Ruthie Foster this past year and she is astonishing. We did "Soul Searching," an older tune of mine, first recorded in 1988. I wanted to try it with this band.

It has some horns on it and it came out nicely – with sparse guitar. "Only You Know and I Know" is a famous tune sung by Bonnie Bramlett. We've never done it and Diane Blue is great on everything. Many years ago, Levon Helm was playing at BB Kings in Memphis, and he called both Bonnie Bramlett and me up – and we sat in together. I loved playing with her, and this song is a sweet reminder of that day. "(Your Love Keeps Lifting Me) Higher and Higher" is one of my wife Donna's favorite songs. It's an R&B that Jackie Wilson sang, and I recorded it for Donna.
[embedded content]
Earl, born Ronald Horvath, has led a storied music career beginning with his early years in Boston while studying at Boston University. He graduated with a dual degree in Education and Special Education in 1975. Ronnie would teach for a few years while playing guitar at night before joining and touring with John Nicholas and The Rhythm Rockers, Sugar Ray and the Bluetones, Roomful of Blues, and finally with his band, The Broadcasters.
Ronnie has shared the stage with B.B. King, Otis Rush, Bobby "Blue" Bland, Albert Collins, Big Mama Thornton, Etta James, Eric Clapton, The Allman Brothers, Jimmie Vaughan, Kim Wilson, and the Fabulous Thunderbirds, Stevie Ray Vaughan, and Leonard Bernstein, among many others.
An authorized biography of Ronnie's life, Beautiful Child, is in progress and includes stories from Ronnie as well as one hundred of his friends and colleagues who have walked alongside him.
Perhaps being the son of two Holocaust survivors has given Ronnie Earl a keen insight into the human condition, which has manifested itself in his musical delivery. As Ronnie celebrates more than 30-plus years of sobriety, he's often quietly devoted his time and donated concert proceeds to help people affected by substance abuse. And as someone who once studied to be a special education teacher, he recalls with particular fondness a 10-year period when he volunteered at LifeLinks Inc., a nonprofit in Chelmsford, Mass. that helps people with intellectual and developmental disabilities.
*Feature image photo credit: Tom Hazeltine