Tommy Castro & The Painkillers Announce 'A Bluesman Came To Town' Tour
On Monday, August 9, internationally beloved guitarist, singer and songwriter Tommy Castro, leader of Tommy Castro & The Painkillers, announced dates for his A Bluesman Came To Town national tour. With performances all across the United States beginning in September 2021 and moving into early 2022, Tommy Castro & The Painkillers — bassist Randy McDonald, drummer Bowen Brown and keyboardist Michael Emerson — will reconnect with fans all over the country. Concert attendees are strongly advised to contact the venue to confirm performance.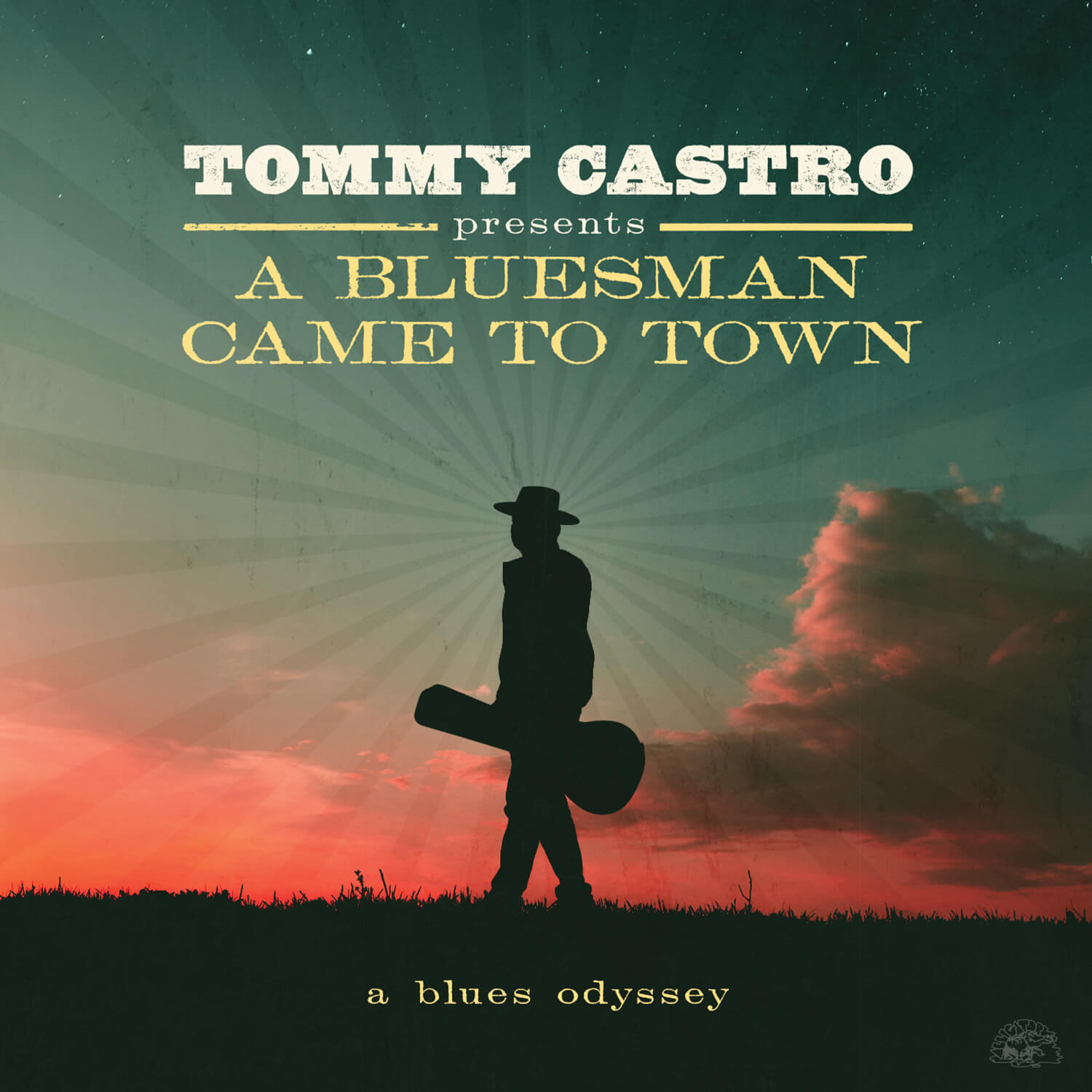 Castro's trailblazing new album, Tommy Castro Presents A Bluesman Came To Town, is set for September 17 release.
Throughout his long, constantly evolving career, guitarist, singer and songwriter Castro has always remained true to himself while exploring, growing and creating new music, and he has taken his thousands of devoted fans right along with him. Ranging from horn-fueled R&B to piping hot blues to fiery, stripped-down rock 'n' roll, each of his 16 albums is solidly built upon Castro's unshakable musical foundation—a dynamic mix of 1960s-influenced guitar-fueled blues, testifying Memphis-soaked blue-eyed soul and Latin-tinged East San Jose funk, all driven by Castro's grab-you-by-the-collar vocals and passionate guitar work.
Tommy Castro Presents A Bluesman Came To Town is a roots music odyssey, a special project composed by Castro along with Grammy Award-winning producer and songwriter Tom Hambridge. Through its 13 songs, the album tells the tale of a young man, working on his family farm, who gets bitten by the blues bug. He masters the guitar and heads out on the road seeking fame and fortune, only to find what he's left behind is the treasure he's been looking for. "A Bluesman Came To Town isn't a story about me," says Castro. "It's pulled from some of my friends' and my experiences, though. I've seen first-hand for a lot of years what it's like out there on the road."
The road has always been Castro's home away from home. He and The Painkillers will instantly ignite a crowd, turn them into loyal fans, and then keep those fans coming back for more. Castro has traveled hundreds of thousands of miles and performed thousands of gigs at clubs, concert halls, and festivals all over the world. Famed guitarist Joe Bonamassa says, "Tommy has always been top of the heap among blues guitar players. He always puts on a great show."
On the new A Bluesman Came To Town tour, Tommy Castro & The Painkillers will perform fan favorites as well as songs from the new album. "I've made seven albums for Alligator," Castro says, "and I've never made the same record twice. I will always try to be my most authentic self. I give it all I've got every time we hit the stage!"
Listen to the first song to be released from the album, Somewhere.
[embedded content]
US Tour:
Saturday, September 18 Berkeley, CA Cornerstone
Thursday, September 23 Boise, ID Treefort Music Festival
Friday, September 24 Victor, ID Knotty Pine Supper Club
Saturday, September 25 Salt Lake City, UT The Commonwealth Room
Monday, September 27 Tucson, AZ 191 Toole
Tuesday, September 28 Phoenix, AZ MIM Music Theater
Wednesday, September 29 Albuquerque, NM Dirty Bourbon
* Friday, October 1 Hutchinson, KS Historic Fox Theatre
* Saturday, October 2 Kansas City, MO Knuckleheads
* Sunday, October 3 Des Moines, IA Wooly's
* Tuesday, October 5 Iowa City, IA The Englert Theatre
* Wednesday, October 6 Madison, WI Barrymore Theatre
* Friday, October 8 Medina, MN Medina Entertainment Center
* Saturday, October 9 Fond Du Lac, WI Sadoff Center for the Arts
* Sunday, October 10 Aurora, IL The Venue
* Tuesday, October 12 Evanston, IL SPACE
* Wednesday, October 13 Ferndale, MI The Magic Bag
* Thursday, October 14 Cleveland, OH Music Box Supper Club
* Saturday, October 16 Frankfort, KY Grand Theatrer
Tuesday, October 19 Nashville, TN 3rd & Lindsley
Wednesday, October 20 Atlanta, GA City Winery
Thursday, October 21 Savannah, GA Victory North
Friday, October 22 Sanford, FL The Alley
Saturday, October 23 Boca Raton, FL The Funky Biscuit
Sunday, October 24 Tampa, FL Skipper's Smokehouse
Saturday, November 6 Fort Lauderdale, FL Legendary Rhythm & Blues Cruise
Monday, November 15 New York, NY City Winery
Tuesday, November 16 Old Saybrook, CT The Kate
Wednesday, November 17 Pawling, NY Daryl's House
Thursday, November 18 Shirley, MA Bull Run Restaurant
Friday, November 19 Teaneck, NJ Debonair Music Hall
Saturday, November 20 Annapolis, MD Rams Head On Stage
Sunday, November 21 Sellersville, PA Sellersville Theater
Wednesday, November 24 Blawnox, PA Moondog's
Friday, November 26 Columbus, OH Natalie's Grandview
Saturday, November 27 New Berlin, IL Danenberger Family Vineyard
Tuesday, November 30 Omaha, NE Stocks n Bonds
Thursday, December 2 Denver, CO The Oriental Theater
Friday, December 3 Colorado Springs, CO Stargazers Theatre
Saturday, December 11 Petaluma, CA Mystic Theatre
Sunday, December 12 Santa Cruz, CA Moe's Alley
Friday, December 17 Sacramento, CA The Sofia
Thursday, December 30 Fresno, CA The Painted Table Event Center
Friday, December 31 Bakersfield, CA World Records
Friday, January 7 Montclair, CA The Canyon
Sunday, January 8 Agoura Hills, CA The Canyon
Saturday, January 15 Modesto, CA The State Theatre
Tuesday, January 18 Seattle, WA Triple Door
Thursday, January 20 Tacoma, WA Spanish Ballroom
Friday, January 21 Portland, OR Jack London Revue
Saturday, January 22 Eugene, OR Sessions Music Hall
* 2021 Gulf Coast West Coast R&B Ramble With Marcia Ball
Feature image: Victoria Smith courtesy of Alligator Records